On 30 May 2018 German-Baltic Chamber of Commerce vocational education award "WE ARE LEARNING 2018" was presented in National Library of Latvia.
---
On 25-26 April 2018 in Kipsala Exhibition Center mastery competition for young professionals "SkillsLatvia 2018" was held by the State Education Development Agency (SEDA). During the competition there were announced 60 winners in 20 different professional skill contests, two of them took place in Jelgava – a city in the central part of Latvia.
---
On 8 February 2017, a seminar was held in Ventspils for the leaders of the educational administrations of the cities and counties, as well as the directors of the vocational education institutions on the implementation of the ESF specific support projects and the planned activities in year 2017. The participants were introduced to the content, objectives and key planned activities of the project "Improvement of sectoral qualifications system for the development and quality assurance of vocational education". Read the rest of this entry »
---
On 26 November, 2015 State Education Development Agency held a conference dedicated to the closure of European Social Fund (ESF) project "Development of a sectoral qualifications system and improvement of the efficiency and quality of vocational education and training". During the project, which lasted for five years, a solid foundation was established for further development of vocational education, quality and prestige.
---
State Education Development Agency (SEDA) in May 9, 2013 organised Leonardo da Vinci programme thematic monitoring workshop "ECVET as a support for the lifelong learning".
---
During the week of November 26-30 (2012), State Education Development Agency in cooperation with local education boards, general and vocational education establishments, higher education institutions, youth centres, libraries and local enterprises arrange Career Week that will be held simultaneously in five cities of Latvia – Liepāja, Ventspils, Rēzekne, Daugavpils and Valmiera – located in various regions of the country.
---
On 23 October (2012) the Academic Information Centre – Latvian National Coordination Point arranged an international conference "Upper levels of qualifications frameworks: Should we include professional qualifications?" that was held in Riga, Latvia (hotel "Radisson Blu Hotel Latvija").
---
On October 8-13 (2012), in Ohrid, Macedonia 25th Annual Conference of the European Association of Hotel and Tourism Schools (AEHT) was held engaging more than 600 participants from 30 countries. During the conference skills competitions for vocational education students were arranged in eight disciplines. Latvia was represented by seven students: four from Riga Food Producers Vocational School (Rīgas Pārtikas ražotāju vidusskola) and three students from Kuldiga Technology and Tourism Vocational Secondary School (Kuldīgas Tehnoloģiju un tūrisma profesionālā vidusskola).
---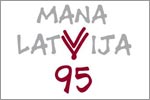 In honour of 95th anniversary of the Republic of Latvia, which will be celebrated in 18 November 2013, during this study year 2012/2013 an event for vocational students and teachers "I call your name – Latvia!" will be arranged at national scale. The aim of this event is to engage vocational education students in the strengthening national identity and civil awareness, in the preserving and developing national traditions and cultural values, as well as to popularise vocational education system and leisure education in Latvia and Europe.
---
The annual skills competition "Chair 2012" for the Latvian vocational education students in woodworking sector was held on 4-9 June in Riga (Latvia). This competition which was arranged by the National Centre for Education.
---